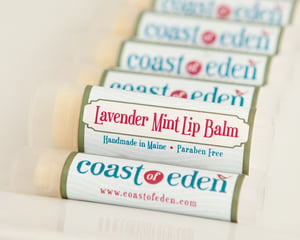 $

3.99
**PLEASE NOTE: Our holiday ordering deadline is December 17, 2014. You can still order after that time but we cannot guarantee the items will arrive in time for Christmas. Thanks for understanding!**
Ditch the petroleum-laden Chapstick or Carmex and try an all natural alternative! Moisturizes lips with Shea Butter, Cocoa Butter, and Apricot Kernel Oil. Contains jojoba oil infused with healing & anti-inflammatory Calendula flowers. Jojoba oil is rich in natural sun protection!
Currently available lip balm flavors:
Rosemary Mint*
Vanilla Mint*
Chai Spice*
Rosemary Mint*
*100% essential oil flavors!
Recent Testimonials:
"This is the second time I have ordered lip balm from Coast of Eden. Having tried nearly every other lip balm on the market, I can honestly say this is THE BEST stuff I have ever used. The flavors are absolutely fantastic, it stays on my lips, and it heals the chapped/cracked areas. I will keep ordering this stuff as long as you keep making it! Thank you!"
"Let me first state that I am a lip balm junkie, so I was excited to try a new exotic flavor like lavender mint. I got my new tube of lip balm right before my annual ski trip to Colorado, where dry, parched, peeling lips are the norm for the week. I first tried it on the plane and instantly fell in love with the scent and way it melted into my lips. Over the coming week, I kept it in my ski jacket and for the first time my lips survived the Rockies in wonderfully soft state. I've since said goodbye to Burt's Bees, Soft-lips, and the like and pledged my full allegiance to a true Maine company with a stand out product and great value." --A.M. Bethel, ME
"The chai spice lip balm should be packaged as a stress-reliever lip balm. Just putting it on conjures the image of a cozy cafe and a heavenly cup of chai - wonderful! Plus, ALL the lip balms (I've tried 3 of Eden's varieties) moisturize beautifully without clumping on dry lips - smooth, leaving a healthy shine." ---L.V. Augusta, GA
"I love love love the Coast of Eden lip balms... lavender mint is my favorite! I use it way more than I actually need to because I can't get enough of the smell and the tingle. :)" --M. S., Portland, ME
Ingredients: certified organic beeswax, apricot kernel oil, shea butter, pesticide-free jojoba oil infused with organic calendula flowers, cocoa butter, vitamin E
All Coast of Eden. products are handmade completely from scratch (no premade bases here!) in small batches on the coast of Maine. Have a great idea for a product we don't already make, or don't see your favorite scent or flavor? Don't hesitate to email us, and we may be able to make it for you!
We are happy to work with you to create custom products as favors for weddings, baby showers, or other functions with a customized label for the event. Simply contact us, and we can work together to come up with an unforgettable favor!