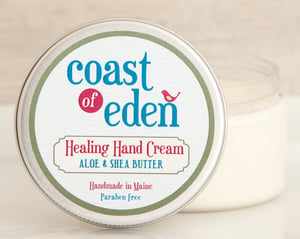 $

12.99
**PLEASE NOTE: Our holiday ordering deadline is December 17, 2014. You can still order after that time but we cannot guarantee the items will arrive in time for Christmas. Thanks for understanding!**
Non-greasy, fast absorbing, & therapeutic. Contains the skin soothing properties of aloe vera & shea butter. Infused with healing & anti-inflammatory calendula flowers.
Our wildly popular hand cream comes in a 4oz jar and is suitable for daily use on dry, damaged skin. Keeps hands soft and smooth during our long, cold winters but not too heavy to use all year round!
Fragrance Free.
Recent Reviews:
"I have to tell you how great the shea butter hand cream is. I have had an unusually difficult winter with splits in both thumbs and my right hand pointer finger. As a seamstress, you can imagine how painful it is to work. I went to the dermatologist who said to use liquid Band-aid in the cracks, Neosporin and gloves at night, and another type of hand cream often during the day. I was having only moderate success, the splits would heal for a day or two, but when I banged my thumb on something or would sew for several hours ...the split would come back. It was more than a quarter of an inch long on my right thumb and I feared it would keep going. Occasionally, it would bleed if I hit it just right. In just two days of using your hand cream product, my splits have healed and new skin is growing in and over the splits. The hand cream is truly amazing and it feels wonderful when applied. I keep the container by my bed, but I need to order more to have in my kitchen and purse!!"
"Really feels good and my hands feel so much better in the mornings. Most times I can't even tell I have used lotion all night but this feels good. I have terrible eczema and my hands crack open and nothing heals them except steroid cream. I use lotion at night to try to prevent the breaks in my skin. So far I am impressed with how this works. Thank you for the super fast shipping. " --R.P Mount Ulla, NC
"I love the texture of this!! It's like a mousse and isn't too oily, perfect for me! Absorbs really quickly too. Thank you so much for working out international shipping =)" --X.C. Singapore
Ingredients: certified organic aloe vera juice, unrefined shea butter, certified organic jojoba oil, emulsifying wax NF, vegetable glycerin, calendula extract, polyaminopropyl biguanide (a paraben & formaldehyde-free preservative), citric acid, sodium benzoate, potassium sorbate (food grade preservatives)
All Coast of Eden. products are handmade completely from scratch (no premade bases here!) in small batches on the coast of Maine. Have a great idea for a product we don't already make, or don't see your favorite scent or flavor? Don't hesitate to email us, and we may be able to make it for you!
We are happy to work with you to create custom products as favors for weddings, baby showers, or other functions with a customized label for the event. Simply contact us, and we can work together to come up with an unforgettable favor!